We Love Coaching Moments and You Should Too!
Follow
Spindle has given management the ability to track each employees' coaching moments on SpindleLIVE With the use of coaching moments, you now can record a coaching session, for example setting goals, performance review, attendance, and any conversation that was had. The record of the conversation is then saved for future use. James Helgeson, from Bay Towel, is one of the top users of Spindle's Coaching Moments. We asked James to share his best practices and success story of using this tool, and here is what he had to say.
"What I like most about Coaching Moments is you have all data available for employees to self-reflect on how they are doing as an employee which goes far beyond just productivity." James also stated, "I feel like as leaders it is our job to coach them when needed. When you have all the data in front of them, it makes employees feel much closer to a coaching session, instead of at times being taken as unsure if they can reach their goals. I feel with coaching moments it makes for a much clearer vision of what they can achieve. Also, coaching moments saves tons of time because I have everything available. I'm not wasting time digging through other files to access all the data I need, which allows me to focus on what's most important; the team!"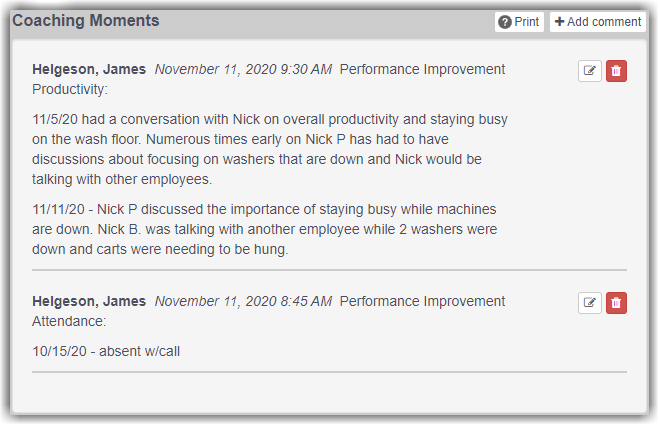 Quick benefits of Coaching Moments:
Coaching in real-time with the employee's data in your hands.
Interactions can be printed and used for more formal reviews.
Employees respond well with consistent coaching and can see their progress.
Coaching Moments provides a great tool to engage your employees and truly help them succeed!