Best Practice - Daily/Weekly Opportunity Checks - Analysis Page
Follow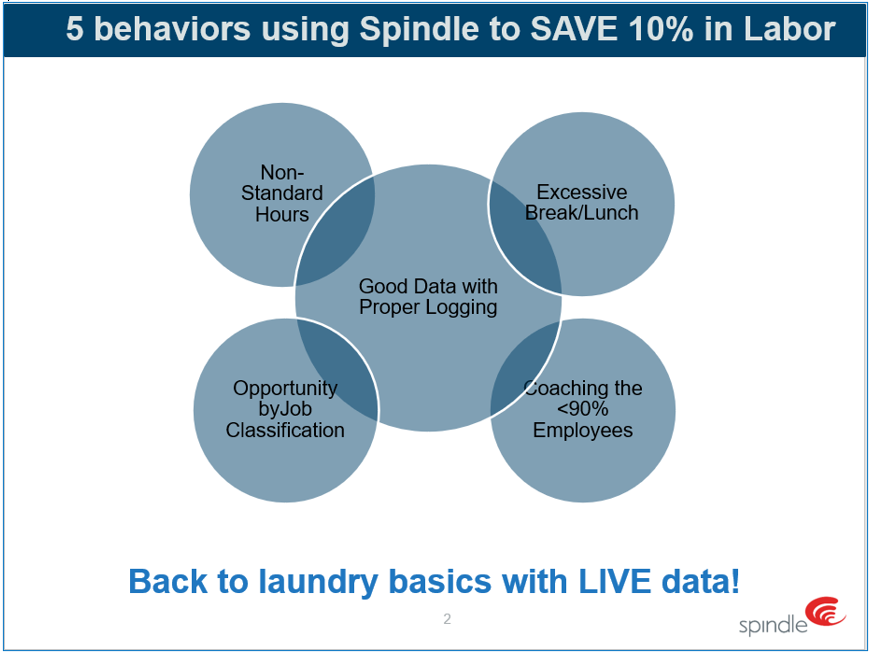 Analysis Page Weekly Checks - Opportunity
The Analysis Page is designed as a "one stop shop" to identify opportunities for any specified date range. It is broken out into three separate views; Employee, Classification and Equipment. The below step-by-step instructions are designed to assist Production Supervisors in quickly identifying areas of opportunity within the facility. As a best practice, Supervisors should perform these steps daily, using the previous day's data, as well as weekly with the previous week's data.
Navigate to the Analysis Page
Navigate to the Analysis Page by clicking on the "four-square" and then selecting "Analysis".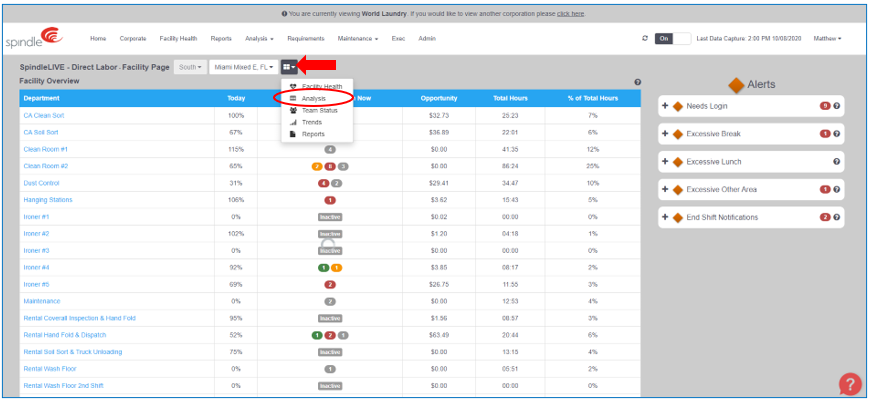 Opportunity by Job Classification
From the Analysis page, click on the "Classification" view.

Choose your date range – "Yesterday" or "Last Week"
Click on "Lost Hours" to sort these hours high to low
NOTE: A good approach is to focus only on your top 2-3 opportunities from last week.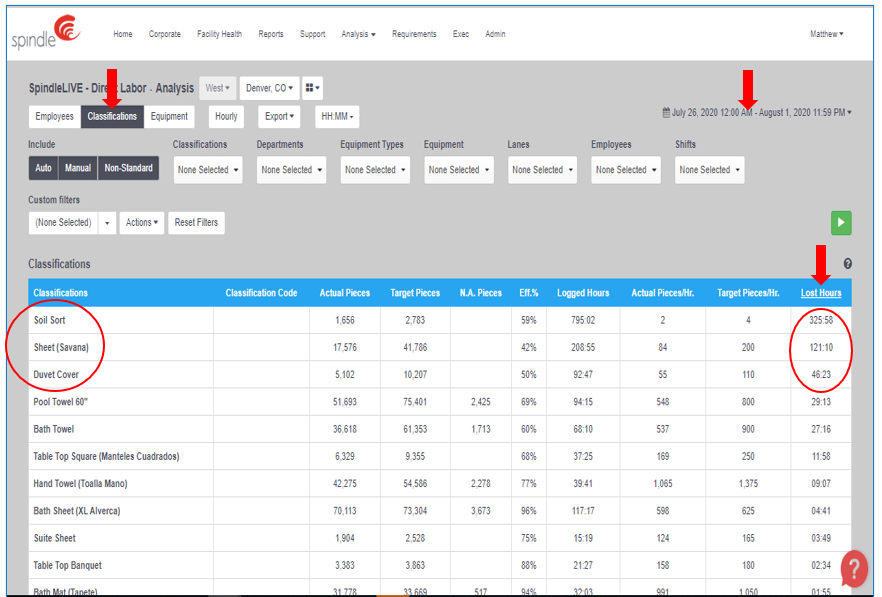 Now that you have identified the job classifications with the most amount of opportunity, it is time to act on the data. Spend extra time in this area throughout the week and observe the process, in order to better understand what is causing these inefficiencies.
Opportunity by Employee
The next step in improving overall plant efficiency is by simply holding employees accountable to job standards. Once you have determined that there are no process/flow or equipment issues preventing employees from meeting standard, it is time to coach. Below are some quick ways in quickly identifying "low hanging fruit" by employee.
From the Analysis page

Ensure you have the appropriate date range selected
Select the "Employee" view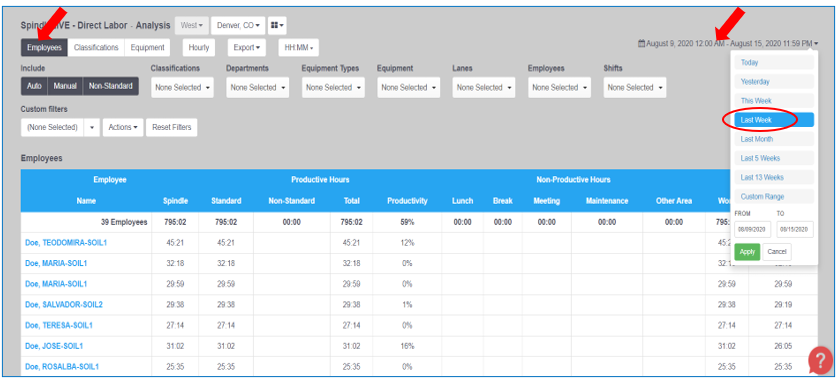 Click on "Opportunity" to sort high to low
Focus on the top 3-5 employees with the highest amount of opportunity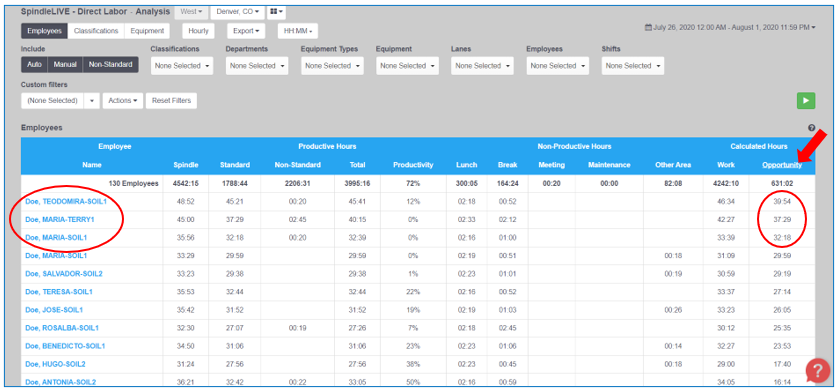 Don't forget to enter a Coaching Moment once you've spoken with the employee(s) with the most opportunity.
Excessive Time
A commonly overlooked area of opportunity is non-productive hours. Non-productive hours are hours spent in Break, Lunch, Meeting, or Other Area.
From the Analysis page

Set the view by "Employees"
Click on the "Break" column to sort the times high to low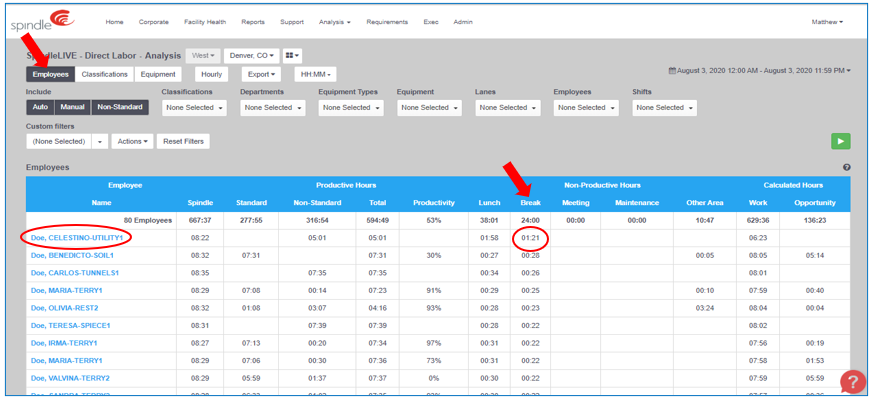 Next, click on the Lunch column to sort the times high to low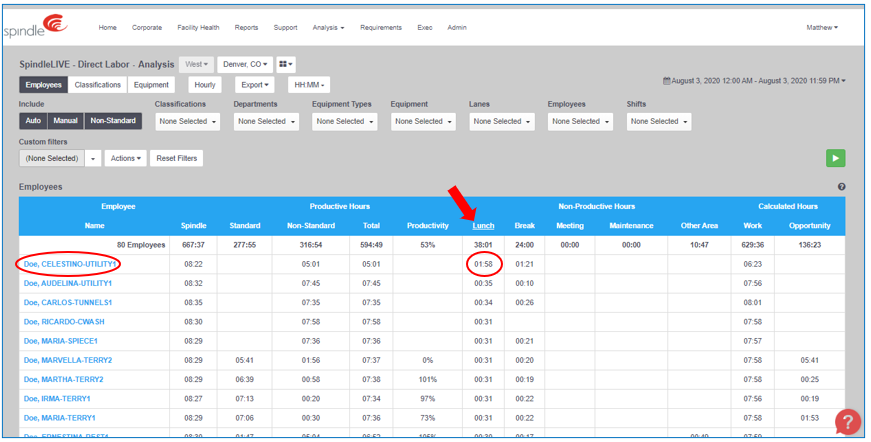 Coach any employees that spent excessive time in Break or Lunch for the previous day/week.
Non-Standard Hours
Non-Standard Hours are hours that are spent in tasks that are not measured for a production efficiency.
From the Analysis Page

Click on the "Classification" view
Uncheck the "Auto" and "Manual" filters by clicking on them and ensuring they are no longer highlighted
Sort "Logged Hours" high to low by clicking on it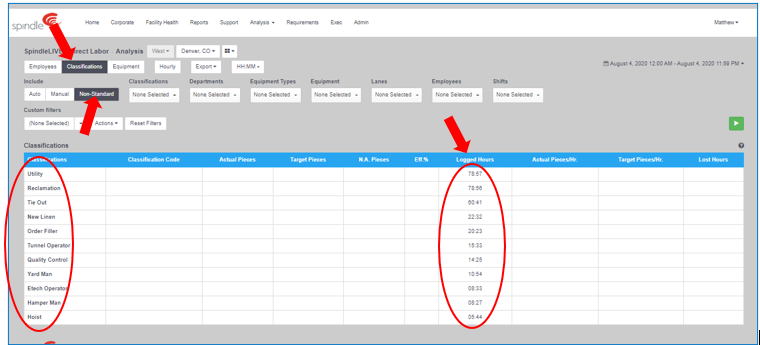 Next, view non-standard hours by employee

Click on the "Employee" view
Uncheck the "Auto" and "Manual" filters by clicking on them and ensuring they are no longer highlighted
Sort "Non-Standard" hours high to low by clicking on it