What are Spindle Hours and how are they different from Time Clock Hours? 
Follow
Spindle Hours are the total amount of time (Hours:Minutes) an employee was logged into Spindle. They include the total productive time + non-productive time. Think about it as the time from when an employee first logs into Spindle until they end their shift for the day.
What is Productive Time?
In Spindle, Total Productive Time is the time spent on equipment capturing a production efficiency + non-standard time. Non-standard time is time spent on jobs or tasks in a plant that need to get completed, but you can't put a target towards the task (think moving carts, or cleaning). We've found one of the most significant opportunities to increase productivity in a plant is to focus on limiting the amount of non-standard time to be no more than 10% of total hours. Read this article to learn more about non-standard time.
What is Non-Productive Time?
In Spindle, Non-Productive Time = Lunch + Break + Meeting + Maintenance + 'Other'. You can find your teams Non-Productive time on the Analysis Page.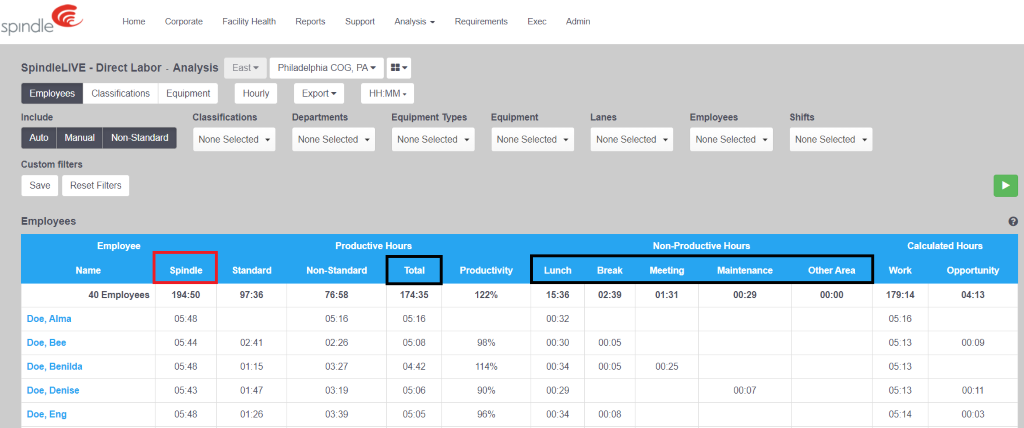 Spindle time = Total productive time + Lunch + Break + Meeting + Maintenance + Other Area
What are Time Clock Hours?
Time clock hours is total time paid to the employee. The equation is calculated on the Analysis Page under Calculated Hours. The Work column is a critical column that should match your payroll hours, checked daily, and the difference should not be higher or lower than 3%. If the work column and payroll hours do not match up, someone has not logged correctly into Spindle.
Work column = Spindle Time (paid time) – Lunch Time (not paid)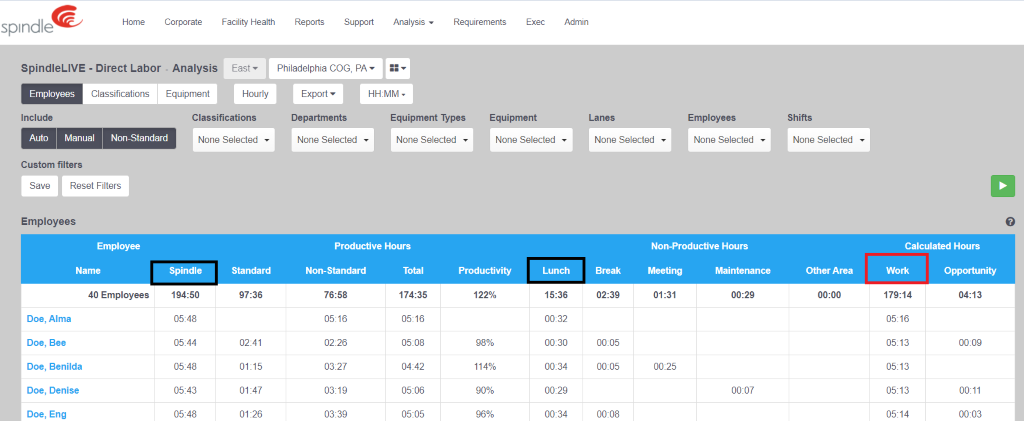 Let Spindle do the hard work for you!
Spindle automatically calculates the percentage difference between your Spindle hours and Time clock hours. This key performance indicator shows up weekly on your corporate page* (image 1) and by minimizing the difference, will help improve your Facility Health Score (image 2).

*You're able to select the KPI's you see on this screen. If you don't see this column and would like to, reach out to your Customer Success Manager.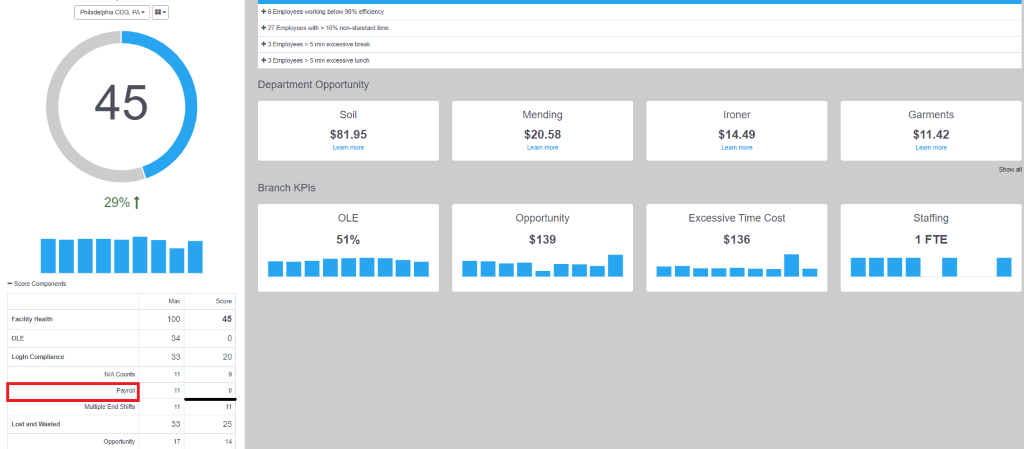 Payroll accounts for 11 points of your Facility Health Score
How to Enter Your Time Clock Hours
Click on the Corporate section

on the side

navigation bar, t

hen select

KPI Entry. I

f you do not see

KPI Entry

, your account is not setup with the proper permissions to make these edits. Please contact Spindle Support support@spindlelive.com.
Select your facility and click on

the

"

Add Entry"

button.

Select the correct week (Spindle weeks are Sunday through Saturday), e

nter in your Time Clock hours in the Total Labor Hours

box, then check the blue save button.