What are NA Counts and Why are They Important?
Follow
Why Are NA Counts Important?
When assessing employee productivity and throughput, you first need to make sure that you are getting complete and accurate information. For this reason, NA counts are an important metric to review to make sure that all employees understand how to properly log in and log out.
What Are NA Counts?
NA Counts (also known as not assigned counts) received in the Spindle system occur when there are automated lanes getting counts without proper login. The employee could be logged into the incorrect lane, logged into the wrong status, or not logged in at all.
How to Know If You're Receiving NA Counts
There are a few areas to check in order to quickly see where improper login is causing NA counts and provide an immediate coaching moment and correct the login issue.
Visual Workplace Display – When you are coaching on the floor, you can see Need Login in real-time as the counts are obtained on that lane.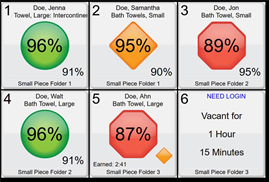 Facility Health Page – The recommended actions will show the lanes where there are NA counts to be addressed appropriately.
Login – Logout Audit (Report) – This report will show you any lanes with NA counts. You can pull this for the current or previous days.
What to do if you had NA Counts?
You can't erase the fact that these counts occurred, but you can make this a learning opportunity for your employees. If you need to assign the missed counts and additional logged time to the appropriate employee, you can do this using Retrospective Count Time Editing in Spindle Admin.