What is Non-Standard Work and Why is it Important?
Follow
In Spindle, your hours are separated into three categories:
Standard hours

–

Hours spent working in a task with a target

Non-standard hours

–

Hours spent working in a task without a target

Non-productive hours

–

Hours spent in Lunch, Break, Meeting and Other Area
What are non-standard hours?
Non-standard hours are hours captured in Spindle that are not measured against a target for a production efficiency. Examples of these types of tasks include Production Leads, Material Handling, Housekeeping, and other miscellaneous tasks in which there are no consistent ways to compare a production count against a target. You should strive to minimize the non-standard tasks within your facility, in order to maximize your ability to measure productivity by task. Although each facility is different, operations that demonstrate best practices in this area typically report no more than 10% non-standard hours.
Why is it important to monitor the non-standard hours within your facility?
In order to reduce labor cost, you must either reduce labor hours or increase volume (without increasing labor hours). While production efficiency is a very important indicator of your team's success, monitoring these non-standards hours is equally as important.
Let's consider a simple scenario in which your team has consistently increased production efficiency over the past few weeks, but you're still reporting the same amount of labor/payroll hours and volume. Your team is more efficient, but how did you save money? The short answer is that you probably didn't. In this scenario, it's likely that your non-standard hours increased, while your standard hours decreased (due to the team members completing their standard tasks in less time).

The image above from our "Trends" page displays an example of this. Notice that the efficiency (graph on the left) increased over the past 4 weeks, but with that, so did non-standard hours (graph on the right). This is an identifier that Team Members may be running out of work and logging into these non-standard tasks so that their efficiency is not affected negatively.
How can you quickly identify the non-standard hours within your facility?
Facility Health Page – The recommended actions will show the Employees with > 10% non-standard time. This should be considered the best practice for quickly identifying your amount of non-standard work, in real time.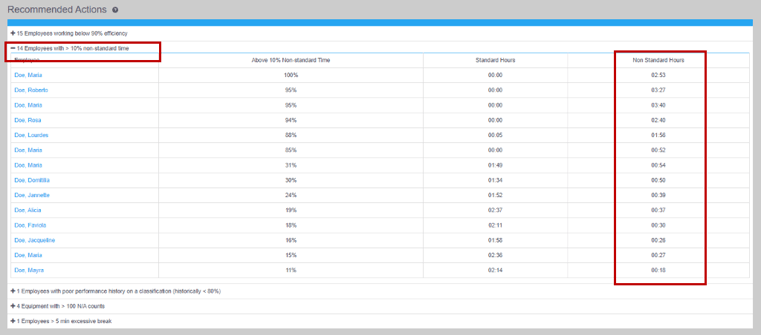 Analysis Page – By filtering out "Auto" and "Manual" on the Analysis page, you'll quickly be able to identify non-standard hours by task (image 1) or by employee (image 2), for a specified date range.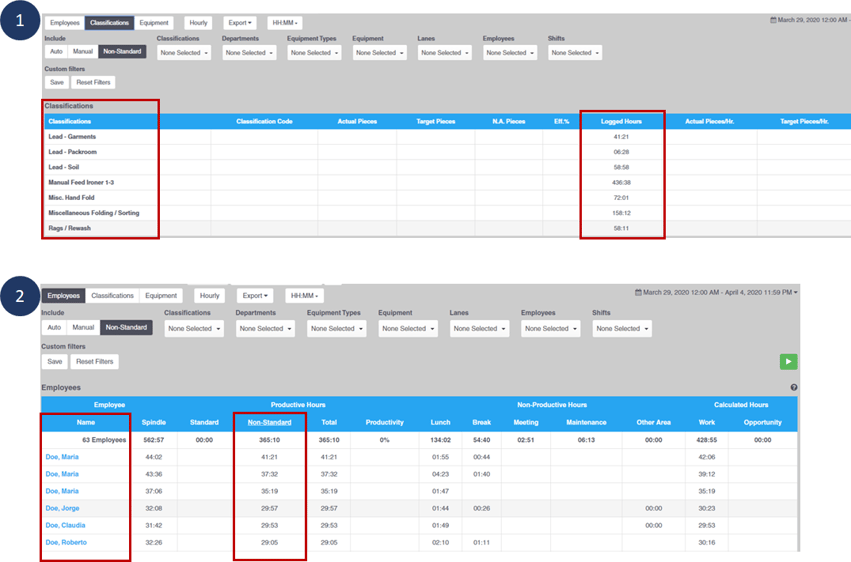 Division of Labor Hours (Report) – This report will break down your Spindle hours based on the three categories mentioned above - Standard hours, Non-standard hours, Non-productive hours.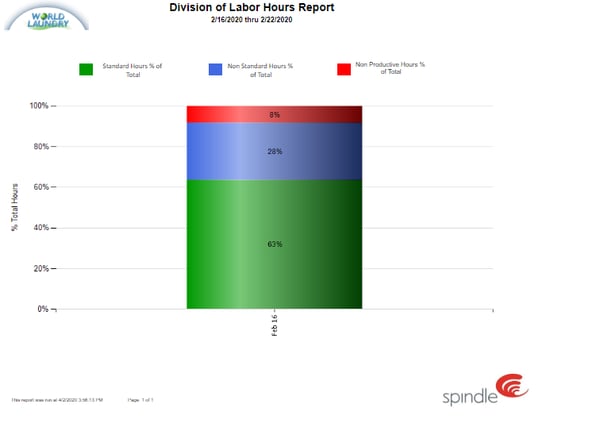 Conclusion and Best Practices:
While every operation will undoubtedly have some non-standard hours, our recommendation is to minimize this to no more than 10% of your total Spindle hours. Since non-standard hours are not measured against a target, if not monitored appropriately, key areas of opportunity within your facility could be overlooked. It is best practice to first identify all non-standard tasks to ensure there is no consistent way to measure as a standard task; and then monitor this time daily, in order to ensure your team is not spending more time than allocated for these areas.